With over 20 years experience providing classes, Prestige Framing Academy offers classes in many different areas and venues. Classes are available in person at multiple venues across the United States including our two facilities- Manalapan, NJ and Los Angeles, CA. For those who are unable to attend a live class we run online classes on a regular basis. No special equipment is necessary for these classes. We also offer classes through sponsoring organizations at different locations, sure to be near you.



Still have Questions? Be sure to include a phone number and I'll be happy to answer quickly.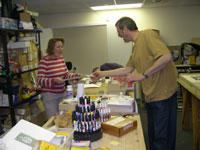 Lots of hands-on work in classes

Our topics include general business, sales skills, marketing and promotion, pricing and operations as well as specific picture framing skills.

Please make a selection from the menu at the left. To find the class that best meets your needs, chose Classes. To find a schedule of upcoming classes, online or in person at any venue, chose Class Schedule. For information on in person classes or on-line classes make the appropriate choice for the menu at the left. If you are looking for a class presentation or speaker for your organization chose the Sponsoring Organizations selection.