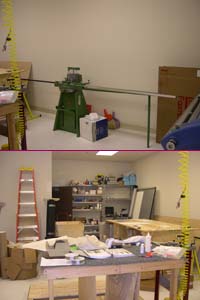 Small shops or large, you can benefit from our experience in design and equipment acquisition.
Need help with new equipment evaluation and acquisition?
Is your production area streamlined to produce the most spectacular frames in the shortest time for the least cost? The critical elements of production are speed, accuracy, and cost. Are you using the best equipment for the job? We first look at your current methods and your volume we then project future growth. Only after this careful evaluation can we recommend appropriate equipment and methods. Prestige Framing Academy has worked with all major equipment vendors and has established relationships that assure you the best prices and service. We have worked with smaller lesser known vendors who are sometimes able to provide a more effective solution. Our representation of numerous clients carries clout with the vendors that translate directly to benefits to you. We never accept kickbacks from vendors; any incentives are passed directly to you. Dont you owe it to yourself to improve your profitability by updating your back room?
You can save time and money by updating your shop with the right equipment. Take the first step today, call (617) 285-0855 or email (stuart@framingacademy.com) to find out more about how you can get pricing and POS done right.