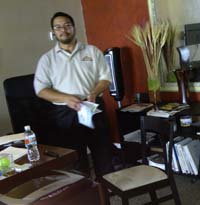 New shop owner Troy Veluz getting ready to open
Do you want to own your own successful business? Are you looking for a proven business opportunity? Perhaps something that takes advantage of your artistic flair? A retail custom picture framing shop may be just right for you!
In todays highly competitive economic times, people are looking for opportunities which have a more direct impact on their futures. Small independent businesses, the backbone of the American economy, allow you to take control of your own destiny by creating and preserving capital as a direct result of your own hard work and ingenuity.
With corporate downsizing putting many jobs at risk, more people are turning to small business ownership as a viable alternative to large company employment. And, with the dismal performance of traditional investments, the small business affords an excellent vehicle to provide for ones future.
Your successful frame shop will help preserve today's cherished memories and create heirlooms treasured for generations. You can take advantage of this opportunity and join in the booming home furnishings industry. Prestige Framing Academy, LLC and PFA Consulting provide a turnkey non-franchise retail custom picture framing solution.
Your decision to open a custom frame shop should not be taken lightly. Plenty of information and much thought are necessary. To receive your complete no cost, no obligation packet filled with industry information, market information, and business information simply fill out the request form. Take the next step to your own business now, then look at the other information available to you here.
The opportunity
Typical requirements
Why a Frame Shop?
Service Provided
Why not a franchise?
How long does it take to get into business?
What is the next step?