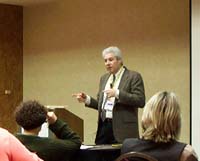 With over 40 years in the field, Stuart Altschuler brings experience to every project.

Prestige Framing Academy, LLC is a full service technical school and business consulting firm specializing in the picture framing industry. Major efforts include both new shop start-up as well as new departments within existing business, shop operations planning and implementation, systems work, and marketing. Prestige also works with industry vendors providing market strategy, new product development, and sales training. Consulting services are provided on a project basis, with pricing determined by assignment magnitude. The principal of Prestige Framing Academy, LLC is Stuart M. Altschuler, CPF®, GCF a third generation framer.


With over thirty years in the picture framing business, we bring a level of experience to every project and class that benefits our customers. The Nobel winning physicist Niels Borr once commented that an expert is someone who has made all of the mistakes. We learn from our experience as well as the experience of others. Put our expert experience to work for you today.


In this section you will find:




Please feel free to contact us with any questions.