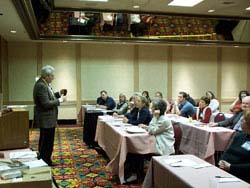 In the field, in the shop, or in front of a large audience, Altschuler focuses on providing value for all

Stuart M. Altschuler, CPF®, GCF the director and lead educator for Prestige Framing Academy, has been in the picture framing and art gallery business for over 30 years. As a family business, Prestige Gallery and Framing provided a fertile training ground for future consulting endeavors. Starting in college, Altschuler was called upon to work on such varied special projects as employee compensation, customer relations, production efficiencies, and marketing. Each project resulted in the presentation and defense of three possible solutions to existing problems detailing the pros and cons of each. In this process Altschuler was groomed to consult in the industry.

Work in the frame shop always led to fancy special projects for which the shop was known. Many of these projects have been featured in such trade publications as Decor and Picture Framing Magazine, where Altschuler has been the frame design editor. Altschulers articles also appear in Fine Woodworking, the leading publication in the woodworking field, for whom he has also published a video entitled Making Picture Frames

As an educator Altschuler has been teaching for many years. Classes are given in conjunction with distributors, manufacturers, and the PPFA. Woodworking classes are taught at several venues in North America sponsored by various organizations.

As a speaker, Altschuler, who strives for perfection, is considered a professional. He is a member of the National Speakers Association.

As a consultant, Mr. Altschuler has worked to open over twenty new frame shops scattered throughout the country. He has also worked with various industry vendors providing help in areas of marketing, product development, sales training, and operations. Work in the photo industry focuses on retailing, operations, marketing, and sales. Altschuler also works with small business in many diverse industries on marketing and operations.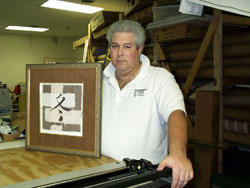 Altschuler, here with a piece featured in a Picture Framing Magazine artilce.
Stuart Altschuler believes in giving back to community and industry. He is active in local charitable organizations as well as industry associations.
In addition to his other activities, Mr. Altschuler, a certified picture framer and PPFA Approved judge, and a guild commended framer currently spends the majority of his time consulting on new framing businesses and new framing departments all across North America. A master craftsman, today Altschuler continues a tradition started three generations ago.