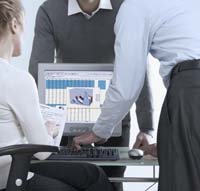 We work individually with clients to get you up and running
General Business Operations
Often times as businesses grow infrastructure doesnt keep up. You are busy running your operation and have little time to search for, acquire, and implement systems that are now needed to support your growth. An example of this would be in the area of human resources. Your company started with you and perhaps a spouse or one trusted employee, but has now grown to six people, three of whom are full-time. You should have an employee manual detailing personnel policies and procedures to both protect yourself legally and give your employees the support they need to do their best work. We have evaluated needs with clients many times and are able to draw on those experiences to help you correctly make critical choices. We understand the pitfalls and can suggest implementation strategies to insure that your business grows at the pace that you want.
Are you unsure how to structure a compensation program that gets the best results from your employees? We have worked on many different types of plans and know what questions to ask.
stuart@framingacademy.com to find out more about how you can have a beautiful store that yields higher sales.