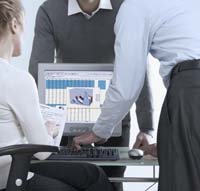 We work individually with clients to get you up and running
Pricing and POS Computerization Installation and Training
Many shops have taken the step to computerize their operations in the past while others are looking to computers now to streamline their operations. And, still other shops are at the point where they are upgrading their systems by changing to new hardware and software. These important decisions need to be made quickly, decisively, and correctly so as not to squander whatever advantages you have built. Success must be built upon success for the small business to remain competitive in todays marketplace. Backward steps, however small, can be disastrous.
Prestige Framing Academy has vast experience helping small and medium sized framing businesses choose, install, and implement computerized POS systems. We have been using systems like these since the late 1970s and understand the problems that you will face. As a Microsoft registered partner, were familiar with the issues, have grappled with the problems, and found solutions. We have a four step plan that will allow you a hassle free transition to better operations. Individually, not with a preprogrammed solution, we consider a pricing structure that is appropriate to your business. This step is critical since your business, while similar to others, is unique in many ways that have a dramatic impact on pricing. Rents and labor costs, to name a few, vary greatly by region and specific location. A pricing structure that yields profits in suburban San Diego could spell financial ruin in suburban Chicago. After the pricing strategies have been worked out, these must be translated to the software. Using our specialized data entry sheets and many problem solving tips and tricks, we have proven methods to insure your move to a POS system is trouble free. Staff training is essential to get the most from your system. We enhance the training provided by the software vendors with hands-on sessions using your own work orders and current framing jobs. Employees learn how to use the system by actually using it with real live data in a supervised forum. Finally, ongoing support augments what is provided by the vendor in critical areas of pricing and profitability. While each installation is specific most take between two and five days of work. Upon completion your new system will be up and running insuring and increasing profits for your business.
Success with your POS system is our goal. You can be up and running with a great system in days . Take the first step today, call (617) 285-0855 or email (stuart@framingacademy.com) to find out more about how you can get pricing and POS done right.